To anyone who desperately wants a clean, comfortable home that you are proud of, but just don't seem to have the money or the time to pull it off…
"Create a home you love and that's easy to take care of –  without breaking the bank"
Imagine finally having –
A home that's easy to keep clean so you have more time to actually enjoy your home …
A home that you are proud to show off…
A home so comfortable that it fits your lifestyle perfectly…
A home where you can relax and feel good.
It may seem impossible…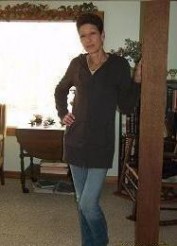 From the eDesk of Carole Stannard-Pagan
Lindenhurst, IL
I am a single working mom.  I have struggled financially most of my life. But it was always important to me to have a nice home…
A place to relax, enjoy, and rejuvenate
An inviting and comfortable place to hang out with family and friends
A place that is safe, clean, and comfortable for the kids to hang out
And most important – a beautiful home that is easy to maintain
I am in the midst of transforming another home now. My long time friend's wife died 6 years ago. It is him and his 2 adult boys living in this house. On top of that, the mortgage has been in limbo all of this time – so he hasn't been motivated to do anything in the house.
Believe me – you can't imagine…
I've lived in some not so stellar places and made them cozy and comfortable. But this one is definitely my biggest challenge to date. I have to say, its coming along nicely.
If this house can be transformed – so can yours. I've put together a great package that will help you do it.
Step 1 -Get it cleaned up…

Its pretty hard to do anything if you can't walk in the house. The first step is to get it cleaned up so you can see what you're really dealing with.
You might find that your home looks pretty good underneath it all…
Secret Confessions of a Clean Freak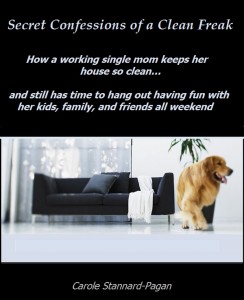 The Simple Housecleaning Guidebook that makes your home look like the cleaning crew was just there
Get Your House Clean, Really Clean without back-breaking effort
Organize the Clutter
Have a Calm Comfortable Home that You and Your Friends and Family will Love to Relax in.
I know, you're thinking "there's no way I can ever get control of this mess!"
Relax – You Can. I'm living proof. Now my daughter is out on her own, and she's doing it too.
And recently, I've moved into an animal house, trying to help a friend save their home. a father and 2 should be adult sons. The mom died 6 years ago. Believe me – you can't imagine what I started with…
In just a few short weeks you will have a home that's cleaner than 95% of the people you know. And you will spend less time doing it. This system is so easy to stick with.
This Is NOT a Bunch of House Cleaning Tips – This is a Whole System
I don't like cleaning house any more than you do! But I'm a Clean Freak. If you're like me, you want a clean house, you just don't want to have to clean it. Once you start using this system, it won't feel like you have to work at it at all.
Imagine how it feels when someone says – "you have such a nice home."
Or when your kid's friends say – "your house is so clean."
Or when a visitor asks – "How often does the maid come?" I loved that one!
It's a riot. All of those things have happened to me. I just smile. They all think it's so hard. It's not, once you learn how.
Secret Confessions of a Clean Freak will reveal-
Where do you start?
What are the essentials to efficiently cleaning your house?
How to size up a room from a pro perspective
What order should you clean in
What's the fastest way to clean each room in the house?
How to clean a bathroom in 10 minutes or less
How to always have a clean kitchen – even if you cook every night like I do
A bizarre principal that will keep you from losing your mind when tackling a difficult job… I can assure you, it is not what you think
How do you know which cleaners are the best for each job?
When should you use natural cleaners?
Read this before using strong bathroom cleaners
3 things that will defeat all of your dusting efforts
What to do if you have allergies
How to stop losing your keys
What to do about all of the toys
How to make it easy for kids to pick up after themselves. Yes, it is possible!
A bizarre habit we all have that really slows you down
How do you find time to get it all done especially if you are still working at a day job?
How to clean a mattress
Can you make old wood furniture look good again?
And much more…
The real secret is getting into an easy ritual
You spend just 15 – 30 minutes a day- weekdays only. (For an average 3 bedroom, 2 bath home – with living room, dining room, family room, and kitchen.) It's not just a collection of housecleaning tips, it's a whole system with schedules and checklists.
And it's exactly how a professional cleaning service would tackle your house – just broken down into easy to fit in little daily tasks.
I'll even tell you the best cleaners to use for each job, and the quickest way to tackle even the worst jobs. I give you every tip, secret and shortcut I can think of.
Quit doing things the hard way
There is the hard way to do things, (the way most people do them) – and then there is the easy way. When you know how to do it the easy way – you'll wonder why no one ever told you.
Secret Confessions of a Clean Freak takes the same techniques the pros use, and breaks them down into small manageable tasks that you can do in no time. Your home will be pro-clean, without the pro-price!
You're not allowed to spend a lot of time on any one job.
The whole point of this system is to get you in the habit of doing just a little everyday. If you're like most people – you put things off because it's just too overwhelming. Using this method, you'll get it clean without back-breaking effort. The results will be amazing. One day you will realize that things you never thought you would get clean are clean. Things like grout and rangehoods. And you didn't have to work hard at it!
You'll have a cleaner home without working hard at it – Guaranteed
If you don't like it, I'll return your money. Simple as that. You've got nothing to lose, and a clean house, more free time, and peace of mind to gain.
Get your copy now and get started!
What would it be worth to you to have a home that looks and feels good? To have control? How would that make your life different?
You're going to love coming home!
You get the downloadable ebook that will walk you step-by-step through the entire process from start to finish. You get all the insiders-only instruction on how to not only get your house clean fast but how to keep it clean without back-breaking effort. You get the exact blueprint you need to succeed!
Have a Cleaning Emergency?  
A lot of people were looking for a fast solution – Something they could do in one day for a party coming up fast! So I have added a One Day House Cleaning Intensive.
Some people like to use the One Day House Cleaning Intensive to initially get the house clean and then use the system to keep it clean.
Step 2 – Perfect Fit Decorating
After you get the house clean, you'll be ready to take it up a notch. I swear almost every person says, "Maybe I should paint…"  Perfect Fit Decorating will help you make your home perfect for your individual taste, perfect for your lifestyle, and perfect for your budget.
You'll learn:
How to pick the perfect color scheme for your individual taste – no matter what the latest decorating trend might be
How to decorate in a way that makes sense for your lifestyle
How to design a floor plan that works for your life so you're not stubbing your toes all the time!
Great storage ideas to keep things neat, but easy to get to
Things to think about before you pick certain colors or finishes
Tips for sprucing up what you already have if you can't afford to buy new right now. I am the queen of this one!
and much more…
This ebook is a limited time bonus
And one more thing!
 How to Clean Your Carpets Like a Pro 
New carpet is expensive. It makes sense to protect your investment. This report was written by a professional carpet cleaner and it will help you keep your carpets looking great longer.
Besides, who wants to be crawling around on smelly, dirty carpet?
What is it worth to you?
What would it be worth to you to have a clean house that you could relax in and enjoy entertaining in?
How proud will you feel when you have a home that looks so much classier without buying a single new piece of furniture?
Do you think you would have less stress, more peace of mind, and more confidence? I know it sure did that for me!
You get 100X your money's worth!
Having your house cleaned costs about $75 – $95 a pop, depending on where you live, and most people have a cleaning done every 2 weeks. That adds up to $1,950.00 to $2,470.00 a year – not including tips and supplies (and that's assuming you are lucky enough to find a good house cleaner…) Now you can save all that money and do it better yourself!
This would be an incredible deal at the price of one cheap house cleaning.
But you're not even going to pay that much! When you get your copy today, You're going to steal the secrets of getting professional results so easily and all those years of trial and error and tears at just $27.99!
This knowledge will serve you for the rest of your life, and you can pass the knowledge on to your kids. That's like 2 lifetimes or more of value.

And the stress reduction? Priceless! 
What if it doesn't work for me?
Go ahead and get started with Secret Confessions of a Clean Freak today. Start going through it as soon as you download it. It's a fast and easy read. Then start doing it! If you don't think that this will make your life easier for many years to come and that it makes the investment completely worth it, just contact me and I'll return your payment to you quietly and without question. And of course, if at any time during the next 30 days you decide this isn't for you, simply email me and I'll return every penny of your purchase. 
When you tap the Buy Now button, you'll be taken to PayPal where you have the option of using your PayPal account, or a credit or debit card. Once the payment is processed – hang on – you will be directed to the download page. I will also send you an email with download instructions just in case.
I know you work hard. You deserve to live nice, right? Here's how to have an awesome home that you love without breaking the bank ! 

  Just $27.99
——————————————
Now, what will you do with all that free time?
Enjoy!
Carole
P.S. I'm only an email away if you need more help.